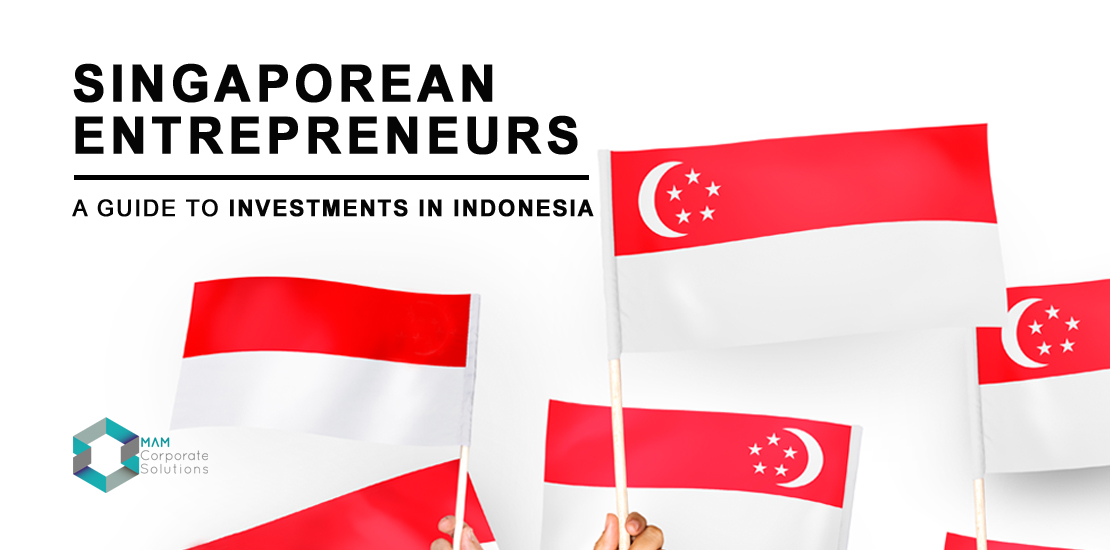 Any foreign investor who wishes to enter Indonesian market and run business in Indonesia is required to setup a foreign investment company also known as PT PMA. This applies to all foreign entrepreneurs including entrepreneurs from Singapore.
Many entrepreneurs from Singapore have invested money in Indonesia in various businesses in across all industries and sectors. According to Airlangga Hartanto, Industry Minister of Indonesia, a total of US$5.04 billion investment came from Singapore to Indonesia in the first half of the year 2018. This value is an increase of 38% from investment received from Singapore in the first half of previous year
We help Singaporean investors to establish presence in Indonesia by setting up foreign-owned company (PT PMA) in Indonesia. To read more, click the following links:
Furthermore, Singapore is currently the fifth largest importer of Indonesia's non-oil and gas goods. These exports have a total annual value of US$9 billion. This shows that Indonesia and Singapore have strong bilateral trade relationship. Singapore and Indonesia are also working together on Kendal Industrial Estate which is an international industrial complex. This estate is located in central java and this project has an investment value of up to US$ 14 trillion. The investment will attract at least 300 tenants and will provide 500,000 job opportunities by the end of 2025.
With Industrial Revolution 4.0 has created unlimited investment opportunities for Singaporeans who wish to start a business in Indonesia. If you are a Singaporean and wish to start business in Indonesia, you will have to setup a foreign-owned company also known as PT PMA. In this article we go through few important details about PT PMA for foreign investors
Foreign-owned company (PT PMA) in Indonesia
PT PMA is a limited liability company in Indonesia with investments from foreign company or individuals. If a company has just 1% foreign shareholding, it is still considered as foreign-owned company. It is the most common legal entity established by foreigners to setup a business in Indonesia.
What is Negative Investment List (NLI) in Indonesia?
A foreign-owned company in Indonesia is allowed to have foreign shareholding however percentage of this foreign shareholding is determined by what is known as Negative Investment List (NLI). Negative Investment List (NLI) is a document issued by Government of Indonesia which determines the foreign shareholding allowed to foreigners. Percentage of foreign shareholding varies based on business activity. According to NLI:
Some business sectors are fully closed for foreigners.

Some business sectors are partially open for foreigners. This mean these business sectors do not allow 100% foreign shareholding instead it must be a mix of foreign and local shareholding.

Some business sectors are fully open for foreigners which means that foreigners can have 100% foreign shareholding.
Apart from rules and regulations related to percentage of shareholding, NLI also provides guidance on other requirements such as any special licenses required. NLI is updated after every three years. If you want to know whether your business activity is allowed in Indonesia or not, you can ask MAM Corporate Solutions by contacting us here.
Requirements for Singaporean investors to establish PT PMA
In how to set up a PT PMA, there are some requirements you need to know:
your business must have at least two shareholders (Corporate shareholders or individuals).

your business must have at least one resident director and one commissioner. The director is required to be resident in Indonesia since he/she will be looking after the affairs of the company. If you are a foreigner, MAM Corporate Solutions can help to get an Expatriate Work Permit for you. For more details about our work permit package, please click here.

PT PMA should have minimum paid-up capital for IDR 2.5 billion or approximately US$ 175,000. You can transfer this amount right after opening of corporate bank account or you can sign a statement letter stating that you will be investing this amount soon later on.

Your business should also have a registered office address which is one of the requirements to setup foreign-owned company in Indonesia
How MAM Corporate Solutions can help?
MAM Corporate Solution has experienced chartered accountants and market-entry specialists. We provide full scope of services to our clients from establishing company in Indonesia to providing all accounting, tax and legal compliance afterwards. We have helped various businesses to establish permanent presence in Indonesia. We ensure that whole process of establishing a company in Indonesia is done according to latest regulations to avoid any costly mistakes.
Contact MAM Corporate Solutions
If you are a Singaporean investor and wish to establish a foreign-owned company (PT PMA) in Indonesia, you can contact us anytime by clicking here or provide below as much detail about your inquiry as possible to receive the most relevant response.