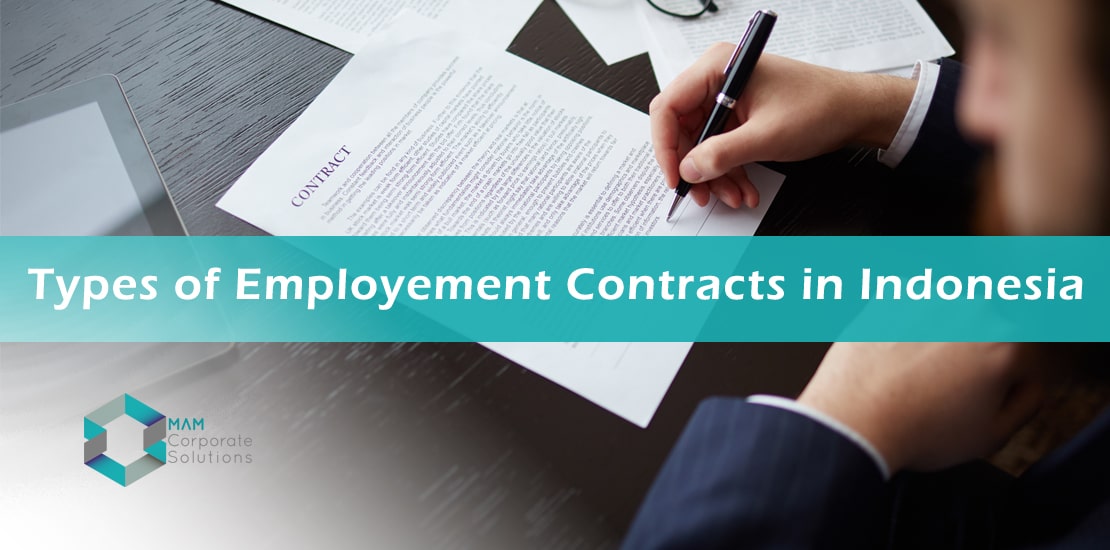 There are various types of Employment contracts in Indonesia. First, let's discuss what is an employment contract? An employment contract is an agreement between the employer and the employee regarding the terms of the employment, rights, and responsibilities of both parties. They exist to give security to both the employer and the employee.
Essential requirements in all types of employment contracts in Indonesia
Based on Chapter 54 Law 13/2003, written employment contract must at least contain
Company name, address, and type of business

Name, gender, age and address of employee

Position or job description

Address of workplace

Salary and the method of payment

Terms and condition regarding the rights and responsibility of both the employee and employer

Start and duration of the employment contract

Place and date of when the contract is made

Both signature of employer and employee
The fixed-term or definite employment contract (PKWT)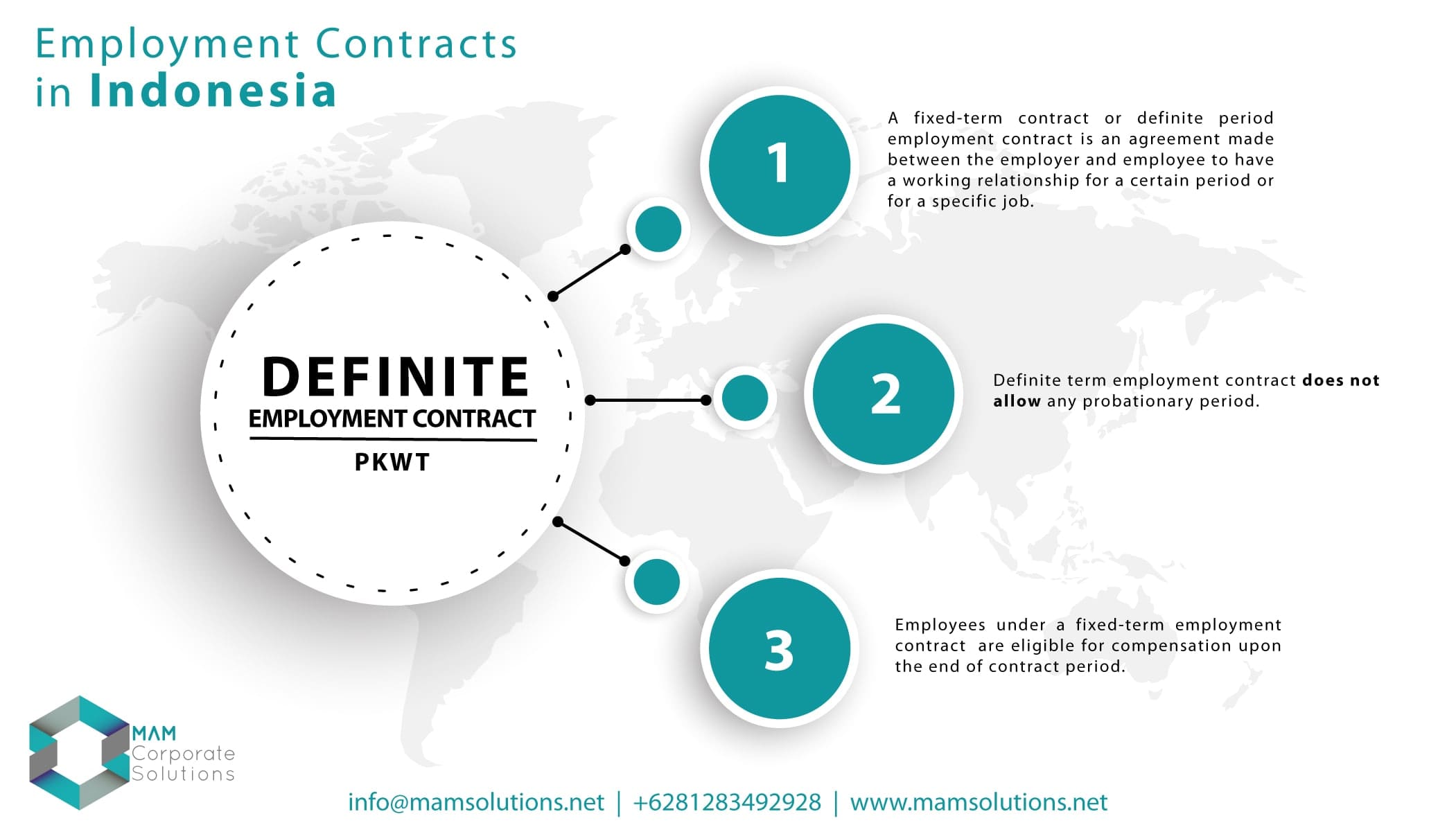 A fixed-term contract or definite period employment contract is an agreement made between the employer and employee to have a working relationship for a certain period or for a specific job. There is no probationary period allowed for fixed-term contract employees.
All fixed- term contracts require to be written in the Indonesian language and registered via an online system to the Ministry of Manpower within 3 days of signing. If the online system is unavailable, then the employer can undertake a manual registration at the local employment office within 7 days of the contract being signed.
The fixed-term contract period including all extensions has a maximum duration of 5 years (initial duration of 2 years which may then be extended for another period of 12 months, further it can be renewed for a period of 2 years after a grace period of 30 days).
Employees under a fixed-term employment contract with at least one month of continuous work will be liable for compensation in the case of termination of contract. Employees are allowed to work overtime no longer than 4 hours in one day or 18 hours in one week.
It should be noted that the rules of a fixed-term employment contract do not apply to foreign employees. They are permitted to work in Indonesia for a specified term and a work permit can only be issued for a one-year term at a time, except in certain cases.
The Permanent or indefinite term employment contract (PKWTT)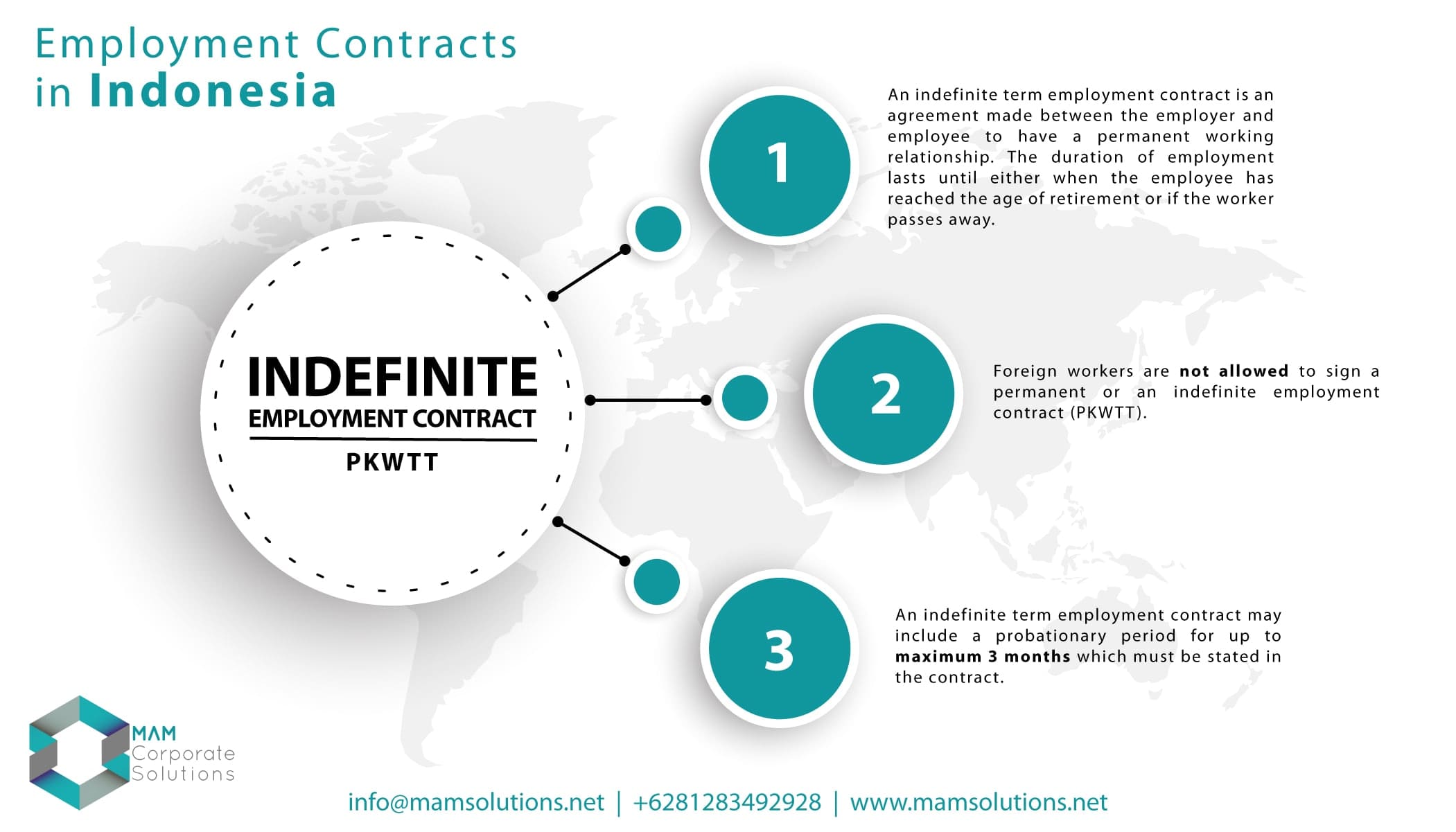 An indefinite term employment contract is an agreement made between the employer and employee to have a permanent working relationship. The duration of employment lasts until either when the employee has reached the age of retirement or if the worker passes away. It is important to note that foreign workers are not allowed to sign a permanent or an indefinite employment contract (PKWTT).
A permanent employment contract is the most common type of employment contract. It may include a probationary period for up to 3 months which must be stated in the contract.
Employees under an indefinite term employment contract are liable for compensation based on the duration of employment.
Frequently Asked Questions – Types of Employment Contracts in Indonesia
In which language should the employment contract in Indonesia be made?
A contract needs to be written in the Indonesian language for it to be legally binding. Hence, for better understanding by employee and employer, employment contracts in Indonesia can be made bilingually with both the Indonesian and foreign language.
However, in the case of a conflict or disagreement the Indonesian version of the contract will prevail.
What happens when work is finished earlier than the time frame agreed in a fixed-term employment contract?
The compensation money for the work done under the fixed-term contract shall be calculated until the time when the job is completed.
What happens to the work relationship when there is no written employment contract?
An employee contract without written proof can be deemed legitimate if these things are verbally promised by both sides (Employee and employer). The conditions for these contracts to be legitimate are:
There is an agreement between the two parties

There is the ability to perform legal actions

The work that is promised

The work that was promised does not oppose public order, decency and applicable laws and regulations.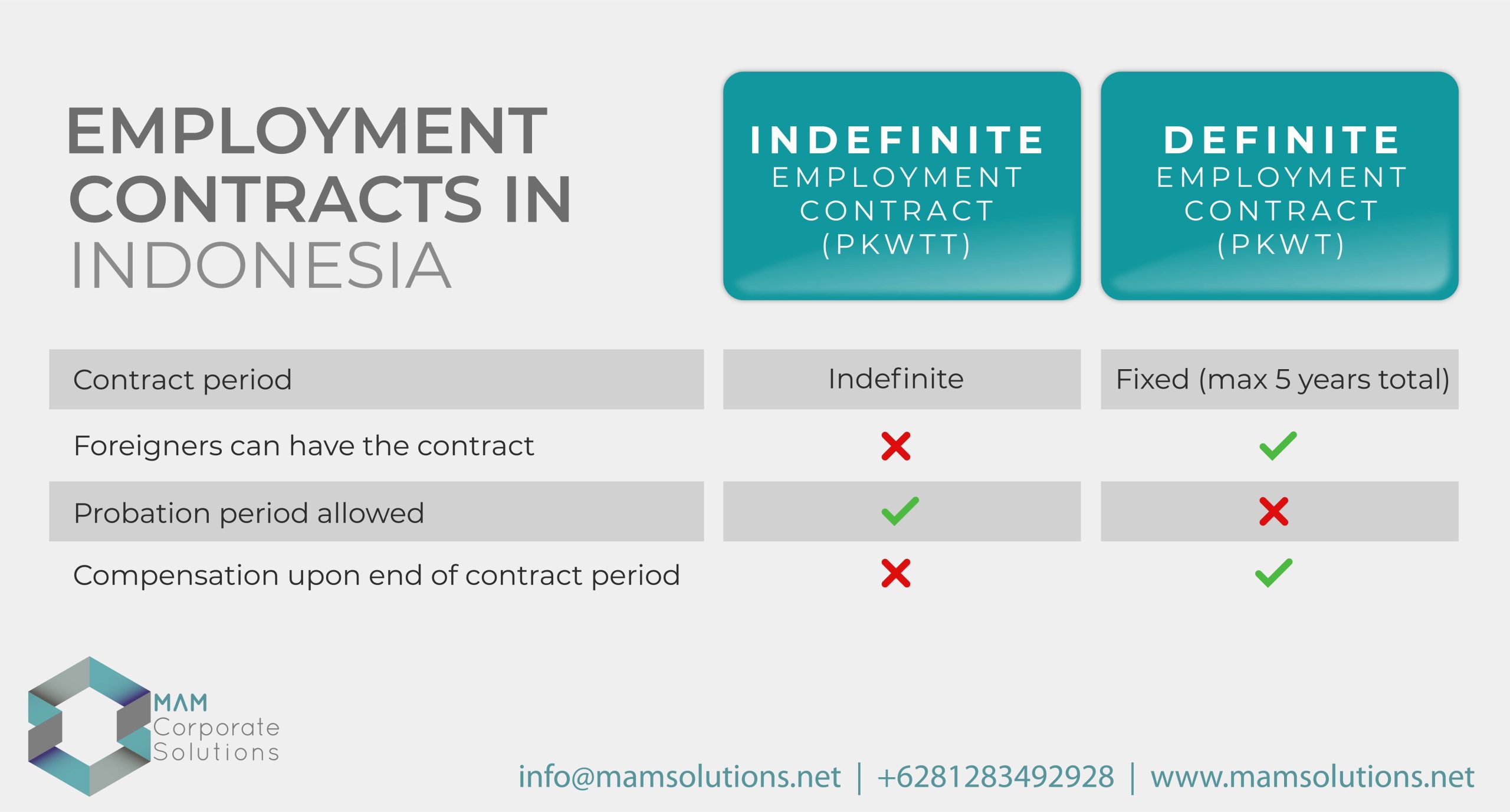 MAM Corporate Solutions can assist with HR and payroll compliance
It is extremely important to remain compliant with Manpower laws in Indonesia because Indonesian Manpower law tends to favor and protects the employees in case of any dispute between employee and employer. One of the alternatives to having an in-house payroll function is to outsource the payroll function to an expert consulting firm such as MAM Corporate Solutions. Outsourcing payroll functions to a payroll provider such as MAM Corporate Solutions means businesses will not have to worry about payroll compliance.
If you do not have a legal entity in Indonesia you can still hire employees in Indonesia legally and with full compliance through our Employer-of-Record (EOR) service. With our Employer-of-Record (EOR) service, we sign the employment agreement with the employee and ensures complete compliance with local tax and manpower laws while the employee works for the foreign business.
With both Payroll Outsourcing and Employer-of-Record (EOR) services, MAM Corporate Solutions takes care of the following for the client:
Calculation of monthly salaries and relevant statutory deductions

Monthly tax and statutory payments and filing

Compliance with other statutory payments such as Religious Holiday Allowance (THR) in Indonesia

Payment to employees (this is optional under payroll outsourcing)

Keeping payroll records

On-going advice to clients on Manpower Law updates.
Contact MAM Corporate Solutions
If you are seeking advice on the types of employment contracts in Indonesia or looking for payroll services, you can contact our expert anytime by Contacting us here or provide below as much detail about your inquiry as possible below to receive the most relevant response.