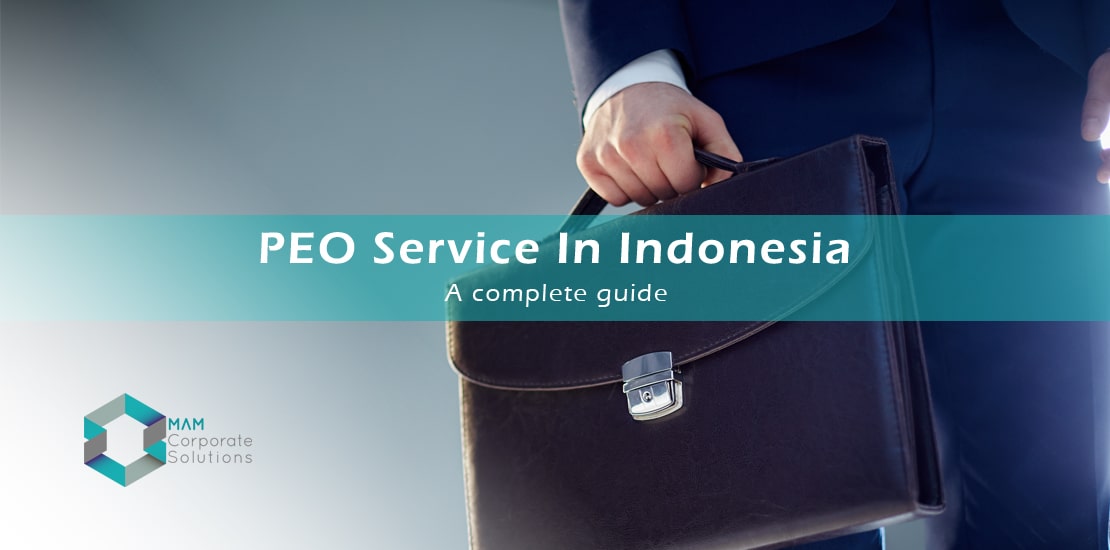 PEO stands for Professional Employer Organization. Some organizations also refer to PEO Service Indonesia as Employer-of-Record (EOR) or HR outsourcing. Indonesia is one of the strongest economies in the South-East Asia and as such offers plenty of business opportunities for foreign companies. However, establishing a company in Indonesia can be complicated due to the higher capital requirements and bureaucracy involved. One of the alternative options for foreign companies is to employ PEO or Professional Employer Organization. A professional employer organization, or PEO service, allows foreign companies to hire employees in Indonesia without establishing a legal entity or worrying about employment-related issues.
MAM Corporate Solutions assists businesses from establishing their presence in Indonesia through to all regular compliance. Visit the following links for some of our main services:
How do PEO service Indonesia work?
PEO or Professional Employer Organization hires the client's employees on its payroll. This is done by PEO signing an employment agreement with the client's employee and registering the employee under its own payroll.
PEO service includes all issues related to employment such as drafting employment agreement, calculation of monthly salaries for employees, filing for statutory monthly deductions such as BPJS and withholding taxes and keeping employee records.
An important point to note here is that although employees are hired by PEO the client still directs the employees in their day to day tasks and the PEO does not interfere with the company's daily operations in any capacity
PEO Service Indonesia - Step by step process
The client engages MAM Corporate Solutions for PEO service Indonesia by signing the service agreement.

The client provides employee details and defines employment terms, job description, employment period and the compensation package.

MAM Corporate Solutions prepares an employment agreement and sends it to the client for review. If the client agrees with the draft agreement, MAM Corporate Solutions sends the employment agreement to the employee for signing.
MAM Corporate Solutions and the client are bound by a service agreement and MAM Corporate Solutions commits to providing PEO service in Indonesia.

MAM Corporate Solutions and the Client's employee are bound by an employment agreement.
Employee executes the job as instructed by the client.

MAM Corporate Solutions provides full PEO service such as tax compliance, compliance with employment law, calculation of monthly salary and statutory deductions, transfer of salaries, issuance of salary slips etc.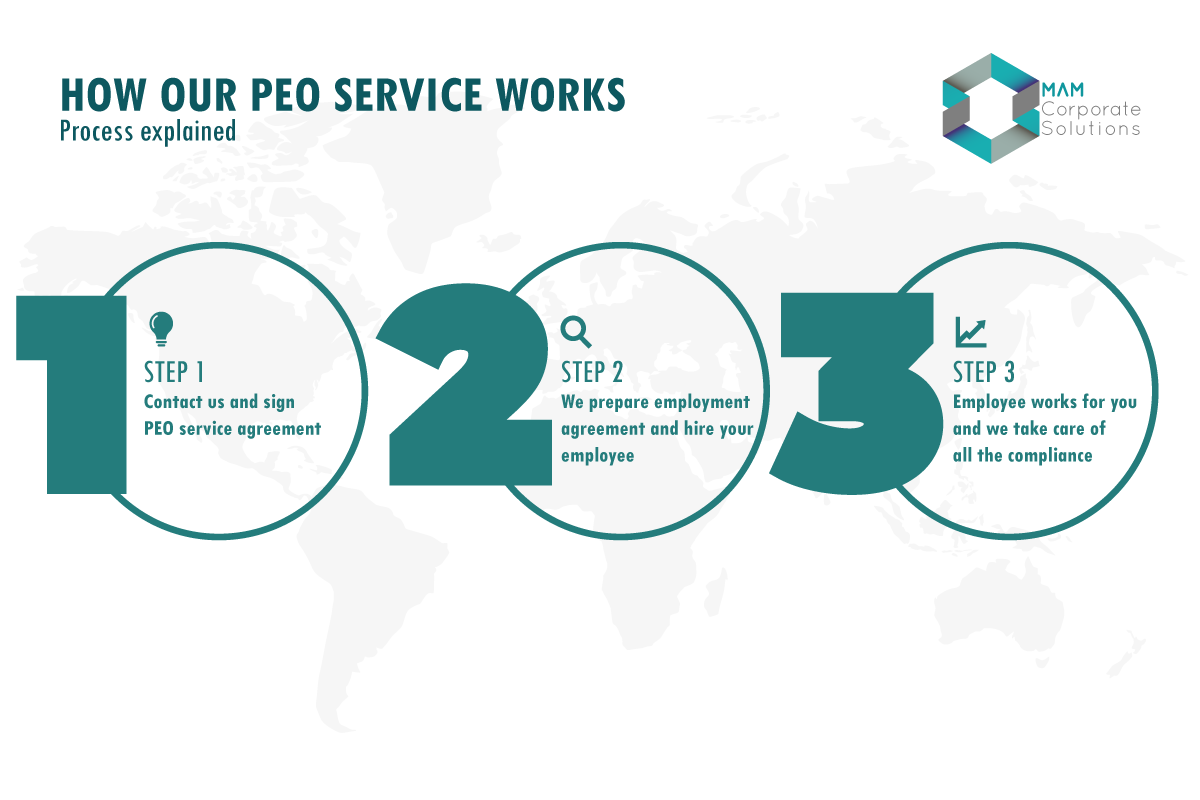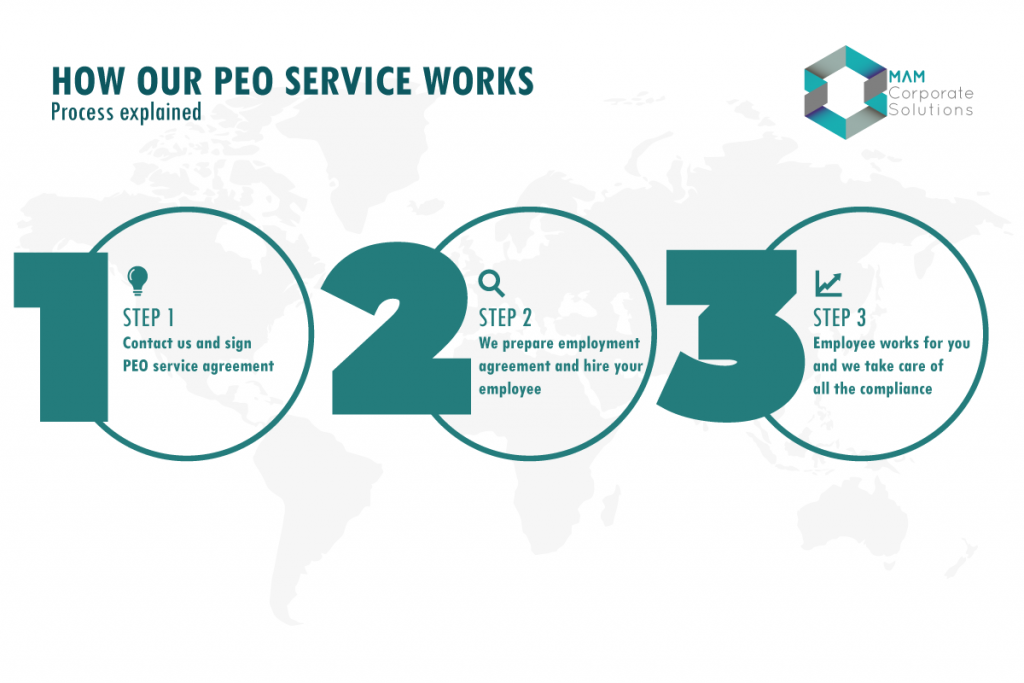 What PEO Service provider does and does not do?
If you are worried that by employing PEO service in Indonesia, you are going to lose control of your company or employees then you are not alone. To address this concern, we have made a list of what PEO can and can't do for you which is given below:
PEO service provider does:
Provide payroll processing, HR compliance, compliance with employment law and file employment-related taxes
Help to reduce the burden of the client by payment of wages to the employees.
liaising with employees if required on employment-related issues such as the collection of employee data and signing of the employment agreement.
Enable employees to have access to all the employment-related benefits by signing a formal employment agreement.
Save client's time so that client can focus on the day-to-day operations and growth of your business.
PEO service provider does not:
Take control of the client's business.

Make hiring and firing decisions for you

Decide employee salaries.

Engage employees in their own business operations.

Provide necessary tools for the job such as laptop or office desk.
What are the benefits of our PEO service?
Indonesia has become one of the most attractive destinations for foreign investors. Businesses are now expanding in Indonesia quickly. MAM Corporate Solutions provide a quick and effective solution to enhance your business growth. Here are some advantages of our PEO/EOR service:
Time Savvy: It saves time and allows quick expansion into the Indonesia market through immediate hiring
No Local Entity needed: Recruit employees to start the operations in Indonesia immediately.
Hassle-Free Employee Onboarding: We do a fully comprehensive recruitment and if needed we get the Work Visa Application done right for you
Monthly Payroll Service: Salary & payroll processing, BPJS and any other required statutory submissions.
On-Site Legal & HR Team: Contract renewal, termination procedure, annual leave management, HR support & advice.
Low Risk and Maintenance: PEO/EOR service will assist you and ensure that the manpower regulations are met.
Test Indonesian market: Every business has its risks. It may or may not succeed especially in a country like Indonesia where it has yet to test the market. However, with our PEO service, foreign businesses can test the Indonesian market without incurring the cost of building a new branch or subsidiary in Indonesia.
MAM Corporate Solutions as Your PEO Service provider in Indonesia?
MAM Corporate Solutions is known for PEO service Indonesia as one of the best PEO Service provider across various public and private sectors.
As a result of the current pandemic, foreign investors need PEO service Indonesia more than ever before as the travel restrictions make movement difficult. In such a situation, MAM Corporate Solutions offers its complete range of PEO service in Indonesia to foreign businesses who want to conduct business activities in Indonesia.
If you are seeking PEO service Indonesia, MAM Corporate Solutions can ensure that all your employment-related concerns are addressed effectively to ensure your business growth.
Contact MAM Corporate Solutions
If you are in need of PEO or Employer-of-Record (EOR) service, you can contact our expert anytime by Clicking here or provide below as much detail about your inquiry as possible to receive the most relevant response.