Indonesia is one of the most attractive emerging markets in South-East Asia for foreign businesses looking to expand their businesses.  Any foreigner who wants to legally run a business in Indonesia must incorporate a PT PMA Indonesia. This entity allows foreigners to generate revenue streams and profit from business conducted within the Indonesian territory.
MAM Corporate Solutions assists businesses from establishing their presence in Indonesia through to all regular compliance. Visit the following links for some of our main services:
Any company in Indonesia that has one or more foreign shareholder is a PT PMA (Perseroan Terbatas Penanaman Modal Asing) which means a "limited liability company with foreign direct investment. The company will still be a PT PMA even if the foreign shareholding is only 1%.
There are various factors that foreigners must consider incorporating a PT PMA in Indonesia. In this article, we will discuss all those factors that foreign investors should consider so that no costly mistakes are made during the PT PMA incorporation.
Every company starts with a company name. It is important to choose a good company name to incorporate a PT PMA Indonesia, but it will equally be important to consider the legal aspect of a company name in Indonesia. Company name has the following requirements in Indonesia:
There should be at least three words. Each word should have at least three letters.

It is possible to incorporate a PT PMA Indonesia with an English name.

Immoral words are not allowed in the company name.

Company name cannot contain words like "Company", "Co", "Corporation" and "PMA".

Company name cannot use any numbers.

Each company name will have a prefix of PT (in addition to the three words)

The company name should not associate or be like names of Government institutions or existing organizations and companies.
It is always better to have at least 2 or 3 proposed company names ready for the application in case the first choice is rejected for some reason by the Ministry of Law and Human Rights.
Minimum requirements to incorporate PT PMA Indonesia
Below we have listed the minimum requirements to consider when incorporating a PT PMA in Indonesia together with all the important points that must be considered:
Shareholders are those who cumulatively own the company and possess rights related to the company. To incorporate a PT PMA Indonesia, there must be a minimum of two shareholders. The shareholders of a PT PMA may either be individuals or corporations. Shareholders who are individuals may either be locals or foreigners, while corporate shareholders may either be based in Indonesia or abroad.
The total percentage of foreign ownership is determined by the business activity. Some business activities are fully open for foreign shareholding while others are partially or fully closed for foreign shareholding. The latest Priority Investment List issued in 2021 provides the details about restricted or open business activities.
The director is the person who is responsible for the general day to day operations of the company. There must be at least one director in every PT PMA. Locals Indonesians and foreigners alike may serve as the director of a PT PMA. If the person who is selected to be the director of the company is a foreigner, the director will require a work permit. If there is more than one director, then one director must be a president director.
Commissioners are those who oversee the directors of a company. They are tasked with holding the company's directors accountable for their actions. At least one commissioner is required. Commissioner can be a foreign individual and does not have to reside in Indonesia. If there is more than one commissioner then one commissioner must be appointed as the President Commissioner. This role is equivalent to Non-Executive Directors in the UK.
It is also important to note that the commissioner and director cannot be the same person. Please click here to read about the Structure of PT PMA in more detail.
4. Registered office address
Another legal requirement to incorporate a PT PMA Indonesia is that of the registered business address. Incorporation of PT PMA also requires a registered office address. Many startup businesses use Virtual Office to satisfy the registered office requirement especially during the current pandemic situation when most businesses are working from home and does not need a physical office.
It is important to note however that some business activities are restricted from using the virtual office. These restricted business activities are in the E-commerce, Property, Construction, Transportation, Event Organization and Tourism business sectors.
Indonesian laws forbid the use of residential addresses as the official business address of a company, be it a PT PMA or any other form of company. Therefore, business owners cannot use their residential address as the registered business address.
5. PT PMA minimum capital requirement
For the establishment of a PT PMA, the foreign shareholders need to comply with the minimum capital requirements of PT PMA. Currently, the minimum authorized and paid-up capital requirement stands at IDR 10 billion (approximately US$ 700,000).
In certain (capital intensive) industries paid-up capital requirements are higher. It is important to note that the establishment of PT PMA minimum capital does not need to be injected at the time of company incorporation as the corporate bank account only opens after the establishment of PT PMA. The shareholders of the PT PMA company sign a Capital Statement Letter pledging that the paid-up capital can be transferred after incorporation of PT PMA.
Investor KITAS for Shareholders
To encourage foreign investors to bring in investment in Indonesia, the Indonesian Government has introduced a new and simplified visa for foreign investors known as Investor KITAS. This new visa has been introduced through Presidential Decree No. 20/2018.
It is important to mention the following points for those investors who want to incorporate a PT PMA Indonesia and apply for the Investor KITAS:
PT PMA Company sponsoring Investor KITAS should have authorized and paid-up capital of at least IDR 10 billion.

A shareholder who wants to apply for Investor KITAS should have a minimum shareholding of IDR 1.125 billion, or

A shareholder who is holding a position of director and wants to apply for Investor KITAS should have a minimum shareholding of IDR 1 billion.
Process of Establishing a PT PMA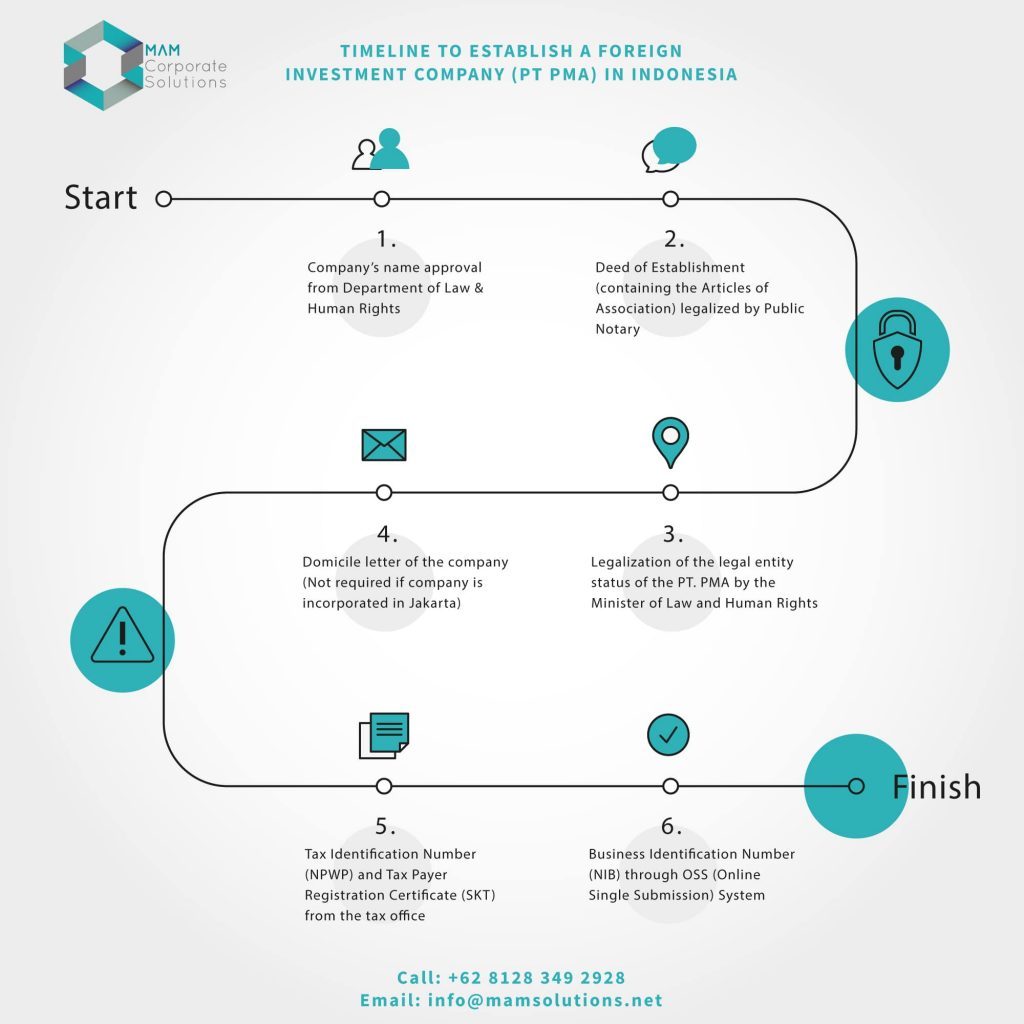 | | | | |
| --- | --- | --- | --- |
| No. | Description | Administrating body | Duration (working days) |
| 1 | Approval of company name from the department of Law and Human Rights | The Ministry of Law & Human Rights | 1 |
| 2 | Deed of Establishment (containing Articles of Association) legalized by Public Notary | Public Notary | 7 |
| 3 | Legalization of the legal entity status to incorporate a PT PMA by the Minister of Law and Human Rights | The Ministry of Law & Human Rights | 3 |
| 4 | Domicile letter of the company (Not needed if the company is incorporated in Jakarta) | The landlord of the office building and Local Council | 3 |
| 5 | Tax Identification Number (NPWP) and taxpayer registration certificate (SKT) from the tax office | Tax office | 3 |
| 6 | Business Identification Number through Online Single Submission (OSS) system | Provincial Government | 3 |
It takes around 2 weeks to incorporate a PT PMA Indonesia.
Contact MAM Corporate Solutions
If you want to establish a PT PMA in Indonesia, you can contact our expert anytime by Clicking here or provide below as much detail about your inquiry as possible to receive the most relevant response.