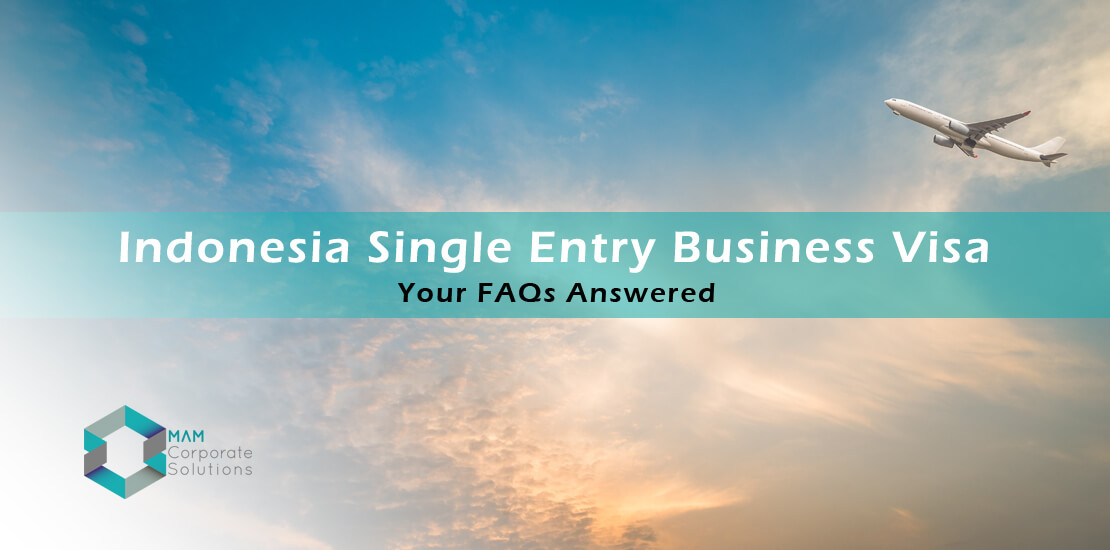 Indonesia has once again opened its borders to foreigners after they were previously closed in July 2021 and visitors can now come to Indonesia on Single Entry Business Visa.
Foreigners visit Indonesia for several reasons such as visiting families, business meetings, holidays etc. Covid has affected almost all businesses directly or indirectly and therefore since now the borders are open, foreign businesses want to start their business activities again.
MAM Corporate Solutions assists foreigners with all kinds of immigration and visa applications. To read more about our visa and immigration services, please click on the following links:
In order to assist the visitors in their application process, we have compiled below a list of the most frequently asked questions businesses and individuals have on the Indonesia Single Entry Business Visa.
FREQUENTLY ASKED QUESTION ON SINGLE ENTRY BUSINESS VISA – ANSWERED BELOW
1. What is Indonesia Single Entry Business Visa?
Indonesian Single Entry Business Visa is a temporary entry permit for individuals who want to visit Indonesia for business meetings, market research, short courses or social visits.
2. How long is Single Entry Business Visa valid for?
Indonesia Single entry business visa is valid for 2 months and can be extended 4-times for one month each time. That means a person can stay a maximum of 6 months in Indonesia with Indonesia Single Entry Business Visa (Initial 2 months + 4 monthly extensions). It is important to note that for the purpose of visa validity, the date of arrival in Indonesia is considered the first day rather than the date of issuance of the visa. It is equally important to note that once the visa has been issued, the visitor must enter Indonesia within 3 months from the date of issue of the visa otherwise visa will expire.
3. Is it possible to stay more than 6 months with Single Entry Business Visa?
If you have to stay in Indonesia for more than 6 months, it is possible to apply for the Single Entry Business Visa again without leaving Indonesia which will allow you to stay in Indonesia for another 6 months.
4. What activities are allowed with Single Entry Business Visa?
As mentioned above, Single Entry Business Visa is mostly used for business meetings or social visits. Visitors are not allowed to take employment of any sort with this visa. Here is the list of activities that visitors can do with a Single Entry Business Visa.
Conducting market research and investigating business opportunities

Travelling, visiting family and friends.

Sports that are not commercial in nature;

comparative studies, short courses, and short training;

Participate in international exhibitions;

Conduct business meetings and talks;

Give lectures or attend seminars;

Travel within the Indonesian Territory.
5. What are the steps to obtain Single Entry Business Visa?
The first step is to prepare all the required documents and submit them to MAM Corporate Solutions together with the visa application fee.

MAM Corporate Solutions will coordinate with the immigration office and submit the visa application.

Once the immigration office has approved the visa application, an E-visa will be sent to you by email.

You will be able to travel and enter Indonesia using E-visa. Later if you wish to extend the visa, MAM Corporate Solutions can assist with extension as well without you leaving Indonesia.
6. What are the requirements for Single Entry Business Visa?
To qualify for a single entry business visa you need to meet the following requirements:
The sponsor can be either an Indonesian citizen or a company. MAM Corporate Solutions can provide sponsorship to those visitors who do not have their own sponsor.

Return flight ticket.

A passport that is valid for at least 18 months

Bank statement with at least US$10,000 (or equivalent in another currency) balance for the last three months. MAM Corporate Solutions will provide this if sponsorship is from MAM Corporate Solutions.

You are a citizen of a country eligible for Indonesian visas.
7. What are additional requirements due to Covid 19?
Due to the pandemic, there are several additional requirements the foreigner arriving in Indonesia must follow. As of March 29, 2021, the requirements are as following:
A couple of statement letters should be signed as well. MAM Corporate Solutions can provide the statement letters

You must enter Indonesia via authorized ports (airport or seaport)

You must show a negative PCR that was taken less than 72 hours before your arrival.

Before visiting Indonesia, you must book a government-approved hotel for quarantine. Click here for the complete list of government-approved hotels.

Full vaccination proof.
After your arrival at Indonesia airport, you will meet the hotel staff at the airport who will take you straight to the hotel. During your quarantine in the hotel, you will not be allowed to leave your room. The hotel will provide meals and other services. There will be two swab tests (PCR tests) conducted during your quarantine. Once you complete the quarantine and test negative, you are free to move around Indonesia.
The Indonesian government has introduced e-visa as a response to Covid 19 pandemic. Initially, applicants had to visit the Indonesian Embassies in overseas countries to collect the visas. This is no longer required. E-visa is sent to the email of the applicant which can be used to travel to Indonesia.
9. How long does it take to process the Indonesia Single Entry Business Visa?
MAM Corporate Solutions offers two different services to process the Single Entry Business Visa.
Normal service: It takes around 7 – 10 working days to get the visa.
Express service: It takes around 1 – 3 working days to get the visa
If you are being sponsored by MAM Corporate Solutions, we will take care of the majority of the requirements on your behalf. However, we will need the following from your side:
Scanned copy of your passport cover and details page.

Return ticket (You may only do the reservation through an agent without paying for the ticket for visa purposes). If you need our assistance in this regard, please let us know.

Copy of your PCR test. If you do not have this, please let us know.

Proof of vaccination.
10. Does MAM Corporate Solutions provide Single Entry Business visa sponsorship?
Applicants for the Single Entry Business Visa need a sponsor in Indonesia to apply for the visa. MAM Corporate Solutions understands that not all applicants have the right sponsorship from Indonesia and therefore we offer the sponsorship facility to those applicants that do not have a sponsor in Indonesia.
Contact MAM Corporate Solutions
MAM Corporate Solutions has expertise in applying for all types of Indonesian visas. If you need a Single Entry Business Visa, you can contact our expert anytime by Clicking here or provide below as much detail about your inquiry as possible below to receive the most relevant response.